CNDH DELEGATION LAYS ASSORTMENT OF FLOWERS AT MEMORIAL OF VICTIMS OF ARGANA CAFE BLAST, ON TRAGIC ACCIDENT'S FIRST ANNIVERSARY
A delegation of the National Human Rights Council, chaired by Mr. Mustapha El Aarissa, chairperson of the Regional Human Rights Commission of Marrakech, on Saturday, April 28, 2012, laid an assortment of flowers at the memorial of the victims of the explosion that tore apart Argana cafe, in Jamaa El Fna Square, in Marrakech, in memory of the victims.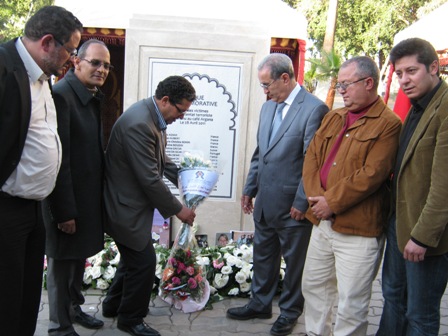 Morocco commemorated the first anniversary of the painful attack that killed 17 and injured 21 people; Moroccans and foreigners. CNDH Delegation forwarded the Council's support and sympathy to the families of the victims, expressing condemnation of all forms of terrorism.
Attended by members of the bereaved families, a commemorating ceremony was organized at Jamaa El Fna Square, in memory of the victims. A message from His Majesty King Mohammed VI to the participants was read on the occasion.
A memorial that bears the names of the 17 victims who perished in the attack was inaugurated by the Moroccan Minister of Interior, the Moroccan Minister of Justice and Freedoms and the French Minister of Justice.
Print this page
Send this page