CNDH CALLS FOR UPDATING ASYLUM PUBLIC POLICIES
On the occasion of the World Refugee Day, celebrated in Rabat, by the Ministerial Delegation for Human Rights and the National Human Rights Council (CNDH), in cooperation with the UN High Commissioner for Refugees (UNHCR) in Morocco
Speaking on the occasion of the World Refugee Day, Mr Mohammed Essabar, Secreatrary General of the (Moroccan) National Human Rights Council (CNDH), indicated that Moroccan asylum public policies should be updated. He explained that this call is stimulated by many factors: commitment of Morocco in this regard, increasing number of migrants, geostrategic evolutions and changes in Africa and the Middle East, the relevant European policies in force, etc.
He added that this action should be carried out in accordance with the law and human solidarity. Committed to strenghten cooperation and solidarity relations with African States, Morocco, he said, should bring forward a new asylum policy that provides more protection to the most vulnerable groups, including migrants, refugees,and asylum seekers.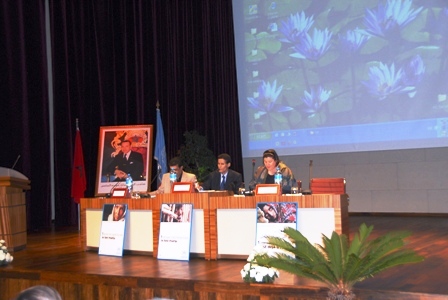 Morocco has a long history in terms of migration. The Kingdom, legetimately, insists on the respect and protection of the rights of the Moroccan community abroad, as stipulated in the international human rights law. It cannot, accordingly, adopt a selective approach in this regard, CNDH SG concluded.
Mr. Almahjoub El Hiba, human rights delegate, indicated that Morocco is one of the first States to ratify the first human rights convention on refugees and human rights. It ratified the Geneva Convention relating to the Status of Refugees on November 7th, 1956, and the 1967 Protocole relating to the Status of Refugees on April 20th, 1971. At the National level, the 2003 law includes advanced provisions regulating the entry to and residence of foreigners in Morocco. It prohibits the deportation of refugees and asylum seekers and guarantees their right to appeal to courts in relation to deportation decisions.
However, Mr. El Hiba said, Morocco does not yet have an institutional framework for refugees and asylum seekers. But with the new advancements in the field of human rights protection and promotion, there is hope to see this gap filled. This would help Morocco respect, at a greater scale, its commitment to protect the rights of refugees, migrants and asylum seekers in its territory, Mr. El Hiba explained.
He added that his delegation is determined to work with its national and international partners to:
reinforce protection ,training,and sensitization to asylum;

deepen civil society involvement;

develop effective coordination and exchange mechanisms;

fulfill Morocco's commitments to harmonize national laws with the international provisions.
Ms Leila Nassif, UNHCR representative in Morocco, indicated that conflicts and violence in so many countries in the world force more than 43 millions to immigrate. 31 % of asylum seekers are under 18, 15 thousands of them are unaccompanied minors.
" Not only are they victims of violence and human rights violations in their countries of origin, they also suffer persecution and violence during their trip", she added. She pointed out to the increasing rates of violence and sexual violence against them, and the increase of human traficking rings' activities.
The UN officers called on the international community to take effective measures in favor of refugees, victims of violence and persecution. She particulary called for helping them"voice out their sufferings to break the silence"
Refugees, she said, need our support either to help them go back home, or to build their future in their host countries. This means opening borders or finding sustainable solutions for those who seek protection, she concluded.
Print this page
Send this page