Mr. Driss El Yazami, CNDH President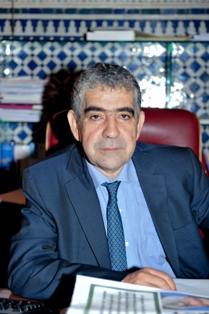 Mr. Driss El Yazami was appointed by His Majesty the King as President of the National Human Rights Council, on March 3rd, 2011. He was born in 1952, in Fez.
Mr. El Yazami is a graduate of the Paris-based Centre de formation et de perfectionnement des journalists. He was member of the Advisory Council on Human Rights (CCDH), former member of the Equity and Reconciliation Commission (Moroccan truth and reconciliation commission) and member of the board of the Three Cultures Foundation (Spain). He is the Director of Générique, an association specialized in the history of foreigners and immigration in France, and chief editor of the Migrance journal.
Mr. El Yazami, is a former Vice-President of the French League of Human Rights (LDH), former Secretary General of the International Federation of Human Rights (FIDH) and former member of the Executive Committee of the Euro-Mediterranean Human Rights Network. Since 2004, he has been the President of the Euro-Mediterranean Foundation of Support to Human Rights Defenders and member of the board of the Cité nationale de l'histoire de l'immigration in France (museum of immigration history).
Mr. El Yazami is co-director of the "France, terre d'Islam ?" film (France, land of Islam?) in 1984. He was in charge of several exhibitions:
"France of foreigners, France of freedoms" (Marseille, Paris, Orléans, Strasbourg, 1989-1992);
"In the mirror of the other, immigration in France and Germany" (Frankfurt, May 1993);
"Generations, a century of history of Maghrebians in France (Lyon & Paris - 2009).
He co-authored several works:
"For Human Rights" (French and English - Syros-Artis, Paris, 1989);
"Les étrangers en France, guide des sources d'archives publiques et privées" (XIXè-XXè siècles);
"Le Paris Arabe" (La Découverte - 2003);
"Générations" (Gallimard, 2009).
Mr. El Yazami drafted (with Remy Schwartz) a report on the creation of a national centre for the history and culture of immigration, submitted in November 2001 to the French Prime Minister. He published several articles in the French-speaking press (Sans frontières, Baraka, Tumulte, Le Point, Libération, Différences, Projet, Migrations société, la Revue des revues, Hommes et Migrations, Vu de gauche, Homme et libertés, Etudes, Migrance).
Mr. Driss El Yazami was awarded the Legion of Honor (knight grade) of the French Republic, on July 14th, 2010.
He is still President of the Moroccan Community Council Abroad, since 2007.
Print this page
Send this page