Implementation of IER Recommendation related to Tagounite Group
Within the framework of the implementation of the special recommendation of the Equity and Reconciliation Commission (IER) on the Tagounite group, the President of the Advisory Council on Human Rights (CCDH), Mr. Ahmed Herzenni received on April 14, 2009 this group.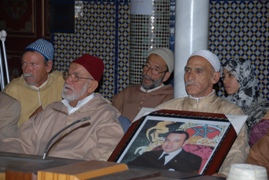 This meeting was an opportunity to explain the philosophy and approach adopted for the implementation of this special recommendation, as part of the IER recommendations on individual compensation.
Mr. Herzen said that the case of the victims of Tagounite was compared to other cases falling within the scope of the IER subject matter competence, in terms of suffering and duration of detention. Therefore, a special recommendation was issued by the Commission in this regard. The Commission on the follow-up of the implementation of the IER recommendations has worked to develop and implement this recommendation in order to compensate this group and allow them to receive medical cover.
Nearly 77 applications were received by the IER, 62 of which received compensation, while the rest is waiting to be dealt with because the files are incomplete.
Victims of Tagounite (215 persons), including people in precarious situation and not having fixed abode, were subjected to violations in 1971 in Casablanca. They were subsequently imprisoned about 3 years in a detention center in Tagounite. During detention, they were abused and their dignity was impaired.
Print this page
Send this page